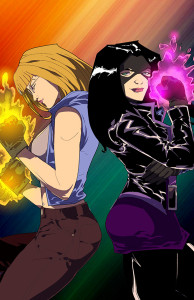 "Shy" is a new comic book series written by Joe Ranoia and beautifully drawn by J. C. Grande.
Shy, a woman with incredible powers, doesn't want to be a hero, but knows she must act to avert a great evil. She is unsure, alone and has no plan to speak of.
Early on, Shy befriends another lost soul, a mercenary named Roxy. They meet in a fight, but when Shy uses her powers to save Roxy's life, it starts a fast friendship between the two.
Roxy becomes more and more a hero and absolutely loves the attention! She lives in the spotlight, while Shy hides in the shadows. They're complete opposites, but bring out the best in each other. Somehow, these two must save The City.